<! enter content from here>

It is our pleasure to provide Lanka Viththi - a long publishing sinhala newspaper from London, United Kingdom here for your reading pleasure. Please expect additional newspapers in due time. Links to Lanka Viththi issues are at the bottom of the page.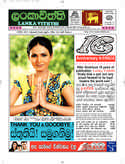 April 2013
Lanka Viththi - Final Issue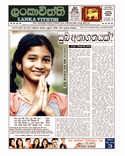 Lanka Viththi - Older Issues from 2007 November
Mother and Motherland are nobler than Heaven!
"Lanka Viththi" or "Lanka Affairs" is a Sinhala monthly newspaper cum magazine published in the UK for the Sinhala readers where ever they are. Also this paper is known to be the first Sinhala language newspaper edited and published outside Sri Lanka. Distributed free, it has a wide readership in Britain, Europe, Canada, U.S.A., Australia, Japan and New Zealand in addition to of course, Sri Lanka. Lanka Viththi has been published uninterruptedly for over the last ten years.
Being a monthly, rather than trying to bring news of events in Sri Lanka, Lanka Viththi presents to the enlightened reader relevant views, opinions, forces and trends behind them. It is assumed that the reader would already be aware of current events through the flood of large number of weeklies and the electronic media in this globalised age.
It has always served as a forum for discussion and debate on social, political, educational and cultural matters with contributions from the editorial side, professionals and relevant specialists and most importantly the active participation of the readers to whom the pages have been readily open and welcome. The readers are always encouraged to bring in their creative writings, art, sculpture, poetry, cinema and drama etc. This is evident by many such contributions appearing in every issue.
Being patriotic to the core, Lanka Viththi has always kept to a policy of a united Lanka and a united people and to campaign against all types of divisive ideas and actions which would only weaken our nation and people. True to the maxim, "Mother and Motherland are nobler than heaven" which depicts on the top of the front page, this paper fights for the safeguard of our beloved and beautiful Mother Lanka.
We are delighted on being able to move one more step forward by starting this website. Views, suggestions and criticisms are most welcome!
So here it is: "The Sinhala Journal" which we hope will become an essential item, "a Sine Qua Non" for all, as this for us.
Lanka Viththi - Editorial Board